Coronavirus (COVID-19) Update #1 – Information for industry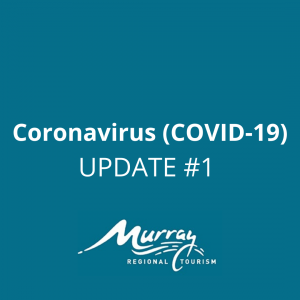 At Murray Regional Tourism, we're closely monitoring the rapidly changing coronavirus (COVID-19) situation and its impacts on the region's tourism industry.
Over the past week, we've been busy liaising with various state and federal agencies to ensure the Murray region is supported during the unprecedented circumstances facing the industry. We've also been speaking directly with many tourism business owners to better understand the impacts and issues at this point in time.
We know there's a lot of information out there and it's easy to feel overwhelmed, so we've created a Coronavirus (COVID-19) Information and Updates webpage with links to official health and business support information to help you navigate through this challenging time. The webpage includes links to information about:
We will continue to update this webpage as new information is received and we encourage you to check the page regularly.
As the situation is changing quickly, we've also established a Murray Regional Tourism Facebook page specifically for our industry partners, so we can provide you with the latest health and business support information in a timely manner. Please 'Like' our Murray Regional Tourism Facebook page to keep up to date with the latest industry information.
We appreciate many of you are currently faced with some very difficult decisions and we will continue to work closely with you to keep you informed and provide support. We encourage you to take advantage of the support initiatives available and we're reviewing our industry training program to ensure it provides you with topics relevant during this period.
We're reviewing and adapting our marketing strategy in line with the latest health advice, direction from the national and state tourism organisations and your feedback. Our current approach is to reinforce the Murray brand via our social media channels emphasising nature and outdoor experiences, to ensure our brand is at the top of consumers' minds when they can travel again.
We're also working on our recovery strategy in partnership with our state tourism partners.
Our immediate focus is to support you where we can and ensure your issues and concerns are presented to the relevant state and federal agencies. If you require support or would like to discuss any concerns, please contact the Murray Regional Tourism team on 03 5480 7110 or email [email protected]