Destination Inspirations Events & Mentoring Program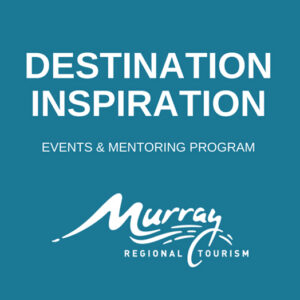 Destination Riverina Murray and Murray Regional Tourism have partnered to deliver a series of five Destination Inspiration events across the Riverina Murray region in February and March 2021.
Each event is anchored by a panel of inspirational tourism operators who have done exceptional things in the industry. The operators will share their stories and deliver key insights, lessons and learnings to inspire participants to create new or enhanced visitor experiences for the region.
The events will be followed by a 6-month mentoring program for up to 15 participants with hands-on support to build the capacity and capabilities of tourism businesses towards the development of new visitor experiences.
Download the Destination Inspirations Events & Mentoring Program Fact Sheet.
Locations are:
Mildura – Tuesday 23 February 2021.
Moama – Wednesday 24 February 2021.
Albury – Thursday 25 February 2021.
Griffith – Monday 1 March 2021.
Wagga – Tuesday 2 March 2021.