Coronavirus (COVID-19) Update #3 – Information for industry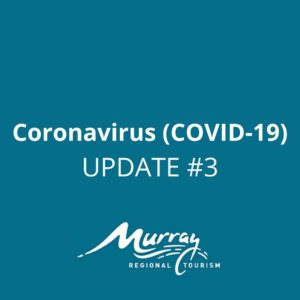 At Murray Regional Tourism, we're continuing to closely monitor the rapidly changing coronavirus (COVID-19) situation. We're working together with state and federal agencies and our cross border local government partners to ensure the Murray region is supported during the unprecedented circumstances facing our industry.
Despite the current challenges, it's been reassuring to see a range of economic support initiatives announced over the past week, particularly some that will benefit small businesses like so many of our region's tourism operators. These support initiatives include:
Commonwealth Government JobKeeper Payment
The JobKeeper Payment will enable affected employers to claim a fortnightly payment of $1,500 per eligible employee from 30 March 2020, for a maximum period of six months to pay employees a wage so they can keep their jobs and continue to earn an income.
Learn more about how the JobKeeper Payment can help employers and sole traders.
NSW Government Small Business Support Fund and Economic Stimulus Package 2
The NSW Government has today announced grants of up to $10,000 under its Small Business Support Fund assistance scheme.
To be eligible, businesses will need to:
Have between 1-19 employees and a turnover of more than $75,000;
A payroll below the NSW Government 2019-20 payroll tax threshold of $900,000;
Have an Australian Business Number as at 1 March 2020, be based in NSW and employ staff as at 1 March 2020;
Be highly impacted by the Public Health (COVID-19 Restrictions on Gathering and Movement) Order 2020 issued on 30 March 2020;
Use the funding for unavoidable business costs such as utilities, overheads, legal costs and financial advice;
Provide appropriate documentation upon application.
Applications for a small business grant will be available through Service NSW within a fortnight and remain open until 1 June 2020. More information
The NSW Government's Economic Stimulus Package 2 announced last week includes:
deferral of gaming machine tax for clubs, pubs and hotels for six months, which includes payments due for the most recent quarter and payments due for the coming quarter.
an additional three month deferral on payroll tax for businesses with payrolls of $10 million or less taking the total deferral period to six months.
Victorian Government Business Support Fund
The Victorian Government has launched the $500 million Business Support Fund to help small businesses survive the impacts of the coronavirus (COVID-19) pandemic and keep people in work. The Fund is part of the Victorian Government's $1.7 billion Economic Survival Package.
The Business Support Fund will help small businesses highly impacted by shutdown restrictions. Those businesses can apply for a $10,000 grant towards operational costs and to help keep people in work. To be eligible, businesses must already employ staff, have payroll of less than $650,000 and a turnover of more than $75,000.
Full details on eligibility and how to apply are set out on the Business Support Fund webpage.
Again, we urge you to spend some time researching the support initiatives available and seek advice from an accountant, business adviser or the relevant government department if you need help determining your eligibility.
Our Coronavirus (COVID-19) Information and Updates webpage has links to official business support information, including the initiatives mentioned above, to help you navigate through this challenging time.
Please 'Like' our Murray Regional Tourism Facebook page so we can provide you with the latest business support information as it becomes available.
The Murray Regional Tourism team is here to support you and available via phone and email. If you need help or would like to discuss any concerns, please contact us on 03 5480 7110 or email [email protected]
Look after yourselves and one another. We will be there with you to help get visitors back to the Murray region when the time is right and together we will make our region strong again.