Communicating with your customers in hibernation and reactivation

As part of our coronavirus (COVID-19) reactivation program, we hosted an informative webinar series to provide tourism businesses with tips to communicate with their customers in the hibernation and reactivation phases of the coronavirus (COVID-19) emergency and help them re-set, re-start and re-store their business.
Webinar 1: Re-set | What communication should you be doing in this 'hibernation' crisis phase?
Learn about the landscape of the current crisis and what communication techniques tourism operators should put into market right now.
Discover why it's never been more important to connect with your customers, changing your marketing focus from conversion into awareness.
Find out the answer to the most important question – how do you promote travel when people can't travel – and how to stay relevant and sensitive in a global pandemic.
This webinar was held on Wednesday 6 May 2020.
Webinar 2: Re-start | What communication should you put in place for domestic travel?
What we know from the global crisis is the shutdown and lockdown period we're currently experiencing is only temporary.
Economists predict travel will come back domestically very strongly, which means you're in the box seat to capitalise on it.
In this webinar you'll learn what things you should be putting in place now for the recovery and re-start of travel.
Have your recovery plans locked and loaded during the ban, so they can be launched to market, the minute it's safe to do so.
Discover our top five marketing plays to busy yourself with now to ensure your marketing is in top shape for when travel restrictions are lifted.
This webinar was held on Wednesday 20 May 2020.
Webinar 3: Re-store | What will marketing post COVID-19 look like?
If there was ever a need to market with authenticity and vulnerability, the post COVID-19 world will be it.
Storytelling will need to become your marketing tool of choice, and your story will need to come to life through all your marketing efforts. Why? You'll need to stand out.
When travel bans are lifted, the entire world will be competing for your customers' attention.
Discover the fundamentals of storytelling marketing and an action-based template of how you can bring storytelling into your customer communications.
You'll also learn 'come out and play' campaign ideas and how to market locally.
This webinar was held on Wednesday 3 June 2020.
Presenter: Hannah Statham from Media Mortar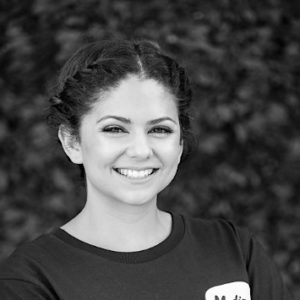 For five years Hannah was the creative power behind the PR and social media machine at Tourism and Events Queensland, before stepping into the world of full time freelance as 'The Boss' at Media Mortar.
She is a marketing communications and media specialist with eight years' experience managing publicity campaigns, writing clickable-copy and running social media accounts.
Hannah has worked in a variety of industries from finance to tourism, delivering award-winning communications wherever she goes.
She is a dynamic speaker, delivering high energy presentations.